Chanting All of the Names of Mañjuśrī
This is a series of notes in blog form of my encounters with the Mañjuśrīnāmasaṃgīti.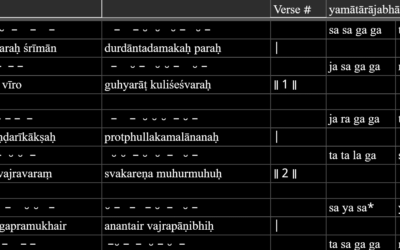 This is a scansion of the Mañjuśrīnāmasaṃgīti as initially found at http://gretil.sub.uni-goettingen.de/gretil.html#RLBuddh. The text is under periodic revision and is being synchronized with Alex Wayman's Chanting the Names of Manjushri and will include further emendations from other source.
read more