What's a Commonplace Book?
Before computers, people used to keep books for scraps of information about a subject they were interested in. John Milton's commonplace book is famous and intimidates scholars. But, even though Milton has been dead for more than 300 years, most of the information about his commonplace book is copyrighted, only available through expensive, small-run books or JSTOR and similar services. Anyway, commonplacing, as it's called, was widely practiced from the Renaissance until Evernote and programs like it arrived. Over the centuries, commonplacing developed and changed. By the 20th Century a commonplace book was a different sort of creature from Milton's, no doubt in part because there were so many more sources of information during even the early stages of the information age. Once could think of Evernote as a super commonplace book. It's crazy how much stuff I keep in Evernote.
I thought it might be fun to make a commonplace book online. The idea started with quotations: I would make blog posts of quotations from my reading of Buddhist philosophy and literature. And it might still be mostly that. But it might be a lot of other stuff too. We'll just have to wait and see. It might even be more fun to let people create accounts and add stuff to a common commonplace book. Social media has become a bore. And Google Groups and the like are too discursive for what I'm thinking. Common commonplacing might be just what we need. And it could work for any subject. Here's my solipsistic start.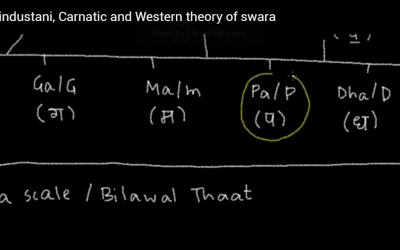 The above is a screenshot from the video below, the third video in a series by Anuja Kamat called "Basic Theory of Indian Music".
read more